Aqua Dogy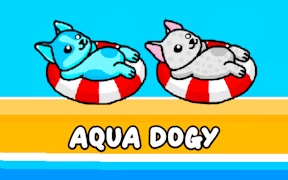 Aqua Dogy
Description
Join the lively Aqua Dogy game that promises an exciting water park adventure with dog siblings. Your quest is to guide the canines as they slide down the water slides, collecting badges along the way. The ultimate goal is to gather all badges and cross the finish line. This game welcomes simultaneous two-player action, making it a fantastic choice for friends looking for some shared fun.
How to play
The game offers a straightforward control system suitable for all ages. Use your W key for jumping with one player and Arrow up key for the other. Gather as many badges as you can while sliding down, and reach the finish line as quickly as possible. Activate the Black Hole by collecting all of them.
Tips and Tricks
To maximize your points in Aqua Dogy, focus on gathering all badges before reaching the finish line. Remember that speed is crucial too, so keep an eye out for shortcuts and faster routes down the slides!
Features
A thrilling two-player game ideal for bonding over shared gaming fun.
Diverse control options enhancing accessibility for users.
A unique Black Hole feature activated by collecting all badges.
Suitable both on desktop and mobile platforms, ensuring uninterrupted gaming action wherever you go.
What are the best online games?