Aqua Blocks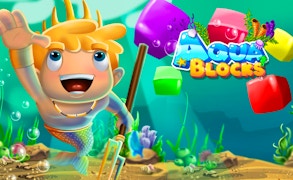 Aqua Blocks
Immerse yourself in a riveting underwater world with Aqua Blocks, a fascinating twist on classic Tetris games. This captivating block game is nothing less than a marine escapade that seamlessly combines strategic planning and swift reflexes. With its whimsical water graphics and soothing sound effects, Aqua Blocks elevates casual gaming to an entirely new level.
Aqua Blocks' core gameplay revolves around creating vertical or horizontal lines out of blocks. Thanks to the intuitive drag-and-drop mechanics, manipulating these blocky elements is as smooth as sailing on a calm sea. The game throws three different shapes at you simultaneously, challenging you to visualize perfect fit for them, akin to piecing together an oceanic jigsaw puzzle.
The real star of the game, though, is undoubtedly the Aqua Power. This game-changing feature lets you eliminate an entire line of blocks either horizontally or vertically from the board with just a single tap. It's your lifeline when you're in a tight spot and no space is left for any more blocks - your cue that it's time for this power-packed reset button.
Carefully placing all these tetris-like pieces becomes an engrossing exercise in strategy as you strive to keep your board clutter-free. Clearing more lines translates into more points on the scoreboard, ensuring that Aqua Blocks stays fresh and exciting each time you dive into this oceanic adventure.
In conclusion, Aqua Blocks offers hours of entertainment for casual gamers seeking an innovative take on traditional Tetris games. Its charming aquatic aesthetics, dynamic gameplay mechanics, and refreshing strategic elements make it a standout in the genre of block games. So if it's laid-back yet challenging fun you're after, give Aqua Blocks a spin - it's definitely worth making waves over.
What are the best online games?
TAGS