Aqua Blitz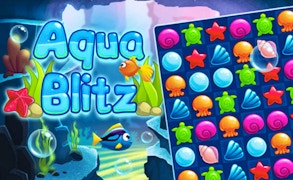 Aqua Blitz
Dive deep into the enchanting world of Aqua Blitz 2, a mesmerizing addition to the realm of match 3 games and games for kids. With its vibrant new graphics and catchy tunes, this underwater adventure is a delightful plunge into the intriguing world of mermaid games.
At the heart of Aqua Blitz 2, you'll meet Pearl, your delightful mermaid hostess who will guide you through more than 700 splashy levels. With her guidance, kids can tackle challenging puzzles - not just familiar match-3 scenarios, but more complex brain-teasers as well. This blend of fun and learning makes it an ideal choice among games for kids.
Aqua Blitz isn't just about gaming; it's an immersive adventure. The game offers Daily Missions and Challenges, which not only promote consistent play but also reward you with extra coins, boosters, and stars. These can help unlock treasure chests and gates to new levels, adding layers of intrigue to your underwater journey.
In addition to these daily events, Aqua Blitz 2 hosts regular Treasure Hunt events. Here young gamers can find sunken pirate treasures – feeding into their inherent love for exploration and discovery. This unique feature sets it apart from other standard match 3 games.
In summary, Aqua Blitz 2 combines captivating graphics with engaging gameplay - offering much more than a typical mermaid game. Its emphasis on daily rewards and treasure hunts ensures an active user engagement while contributing to your child's cognitive development. Give Aqua Blitz 2 a try if you're in search of an exciting yet educational game for your kids.
What are the best online games?