Anna Scoliosis Surgery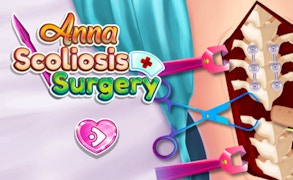 Anna Scoliosis Surgery
Welcome to our game review of the delightful and engaging Anna Scoliosis Surgery, a lifelike operation game that is also a fantastic addition to the collection of games for girls. This game successfully navigates the tricky waters of educating and entertaining young players, making it one of the most attractive offerings in the genre.
In this captivating game, the beloved Disney Princess Anna is diagnosed with scoliosis and must undergo surgery. Here's where the player comes in - your task is to help her through this challenging process. The depth and details put into Anna's character development are commendable, making it easy for players to empathize with her situation.
This isn't just an operation simulation; it goes beyond that. The developers have tastefully incorporated elements of dress up games. After you've successfully completed the surgery, you're tasked with choosing a comfortable outfit for Anna's recovery period. It lends a whole new level of interaction and personalization that most operation games lack.
Anna Scoliosis Surgery provides an accessible introduction to medical procedures, which can prove beneficial for kids curious about healthcare professions. What sets this game apart is how it balances being informative without being too graphic or complicated for its young audience.
The controls are straightforward, the graphics are colorful without being overwhelming, and even though the storyline is serious, there's an inherent fun factor that keeps children engaged. It's admirable how this game takes a potentially scary subject like spinal surgery and turns it into an enlightening learning experience.
In summary, Anna Scoliosis Surgery is more than your average game for girls; it's an adventure, an educational experience wrapped in fun gameplay elements. For parents looking for intelligent girl games that combine learning with leisure, Anna's Scoliosis Surgery is a top recommendation.
What are the best online games?