Animal Lion Memory Match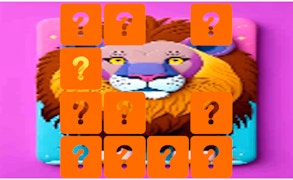 Animal Lion Memory Match
Description
Delve into the fascinating world of wildlife with the Animal Lion Memory Match. This classic puzzle game offers immersive fun by challenging you to reconstruct a lion picture by sliding tiles. Each tile features a part of a lion's image and requires strategic maneuvering to complete the picture. The game puts your visual memory and puzzle-solving skills to the test and offers an engaging gaming experience.
How to play
To play Animal Lion Memory Match, either touch or click on the tiles to move them into their correct positions. It's all about leveraging your memory power. Make sure to observe the initial image before the tiles get shuffled. Keep practicing and watch as your puzzle-solving speed increases, marking your progress in this exciting game.
Tips and Tricks
To enhance your performance in this game, start by focusing on smaller sections of the puzzle than trying to solve it all at once. Remember, patience is key. Don't rush; instead, take your time and memorize each tile's position and characteristics keenly.
Features
Fascinating wildlife-themed puzzles that not only entertain but challenge you.
An exciting sliding tile mechanism that adds an interactive touch.
An excellent memory booster game suitable for all ages.
Clean graphics offer an excellent visual experience.
A timer component for added excitement as you race against time.
What are the best online games?