Angry Goat Simulator 3D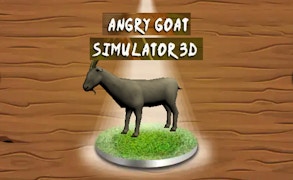 Angry Goat Simulator 3D
Description
In Angry Goat Simulator 3D, you incarnate a rampaging goat with a vengeful spirit. A highly engaging adventure simulation game set in the city, your goal is to create as much chaos and destruction as possible. The 3D graphics bring your wrathful goat to life and make the wreckage feel more tangible.
How to play
Make use of the game's intuitive controls to guide your goat on its mission of destruction. Navigate rampantly through the city, head-butting and trampling everything that comes your way. The more damage you cause, the more points you accumulate, aiding in level progression.
Tips and Tricks
Aim for large clusters of items for maximum destruction and points. Utilize speed runs and high jumps to increase your destructive impact. Keep an eye out for special items that can aid in causing more damage.
Features
Immersive 3D Graphics: Creates a realistic city environment for your goat's rampage.
Destructible Environment: Almost every item in the game can be destroyed.
Versatile Controls: Easy-to-use controls allow for quick headbutting, leaping, and running.
Scoring System: The more you destroy, the higher your score climbs.
What are the best online games?