Angela Skin Doctor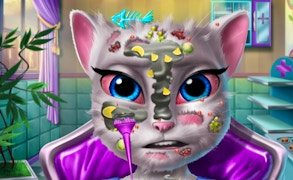 Angela Skin Doctor
Delve into the heartwarming tale of a lost feline friend in Angela Skin Doctor, a superb title that flawlessly combines elements of games for girls, animal games, and operation games. Ever wished you could play doctor to your very own virtual pet? Well, now you can! It's time to roll up those sleeves and help Angela on her journey back to health.
In this delightful cat game, poor Angela, our whiskered protagonist, gets lost and returns with a multitude of skin issues. Now it's your responsibility as the player to treat her ailments using all sorts of fun tools. The gameplay not only entertains but also has an educational aspect, helping kids understand more about treating wounds and allergies.
The creators brilliantly weave in various engaging aspects. From zapping pesky pimples with cool lasers to removing stubborn scars, every step in Angela's treatment feels genuinely rewarding. The game even throws in unexpected surprises - bugs that players will find both fun and engaging to eliminate.
Apart from being an exhilarating animal game, Angela Skin Doctor presents an added dimension for lovers of makeup games. Once you've treated all her ailments, there's a world of cosmetic options to explore. From painting pretty blushes on her cheeks to applying eye-catching eyeliners, it's an absolute joy transforming Angela from drab to fab!
To summarize, Angela Skin Doctor captures the perfect blend of an immersive storyline, intuitive gameplay mechanics, and vibrant graphics. It stands as an eye-catching title amongst other games for girls. So if you're an avid fan of cat games, or have a knack for playing virtual medic in operation games, Angela Skin Doctor deserves your attention. Help make our feline heroine feel 'meowtastic' again!
What are the best online games?