Among Them Painting Book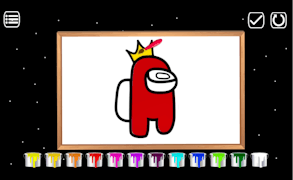 Among Them Painting Book
Immerse yourself in the colorful world of the Among Them Painting Book, a delightful concoction of drawing games and coloring games, that will get your creative juices flowing.
This game isn't just another addition to the overwhelming list of puzzle games; it's a vibrant journey into the world of Among Us characters. Here, you're not restricted by pre-determined hues or shades. You're the artist, and the colors are at your disposal.
The mechanics are simple yet effective. With paint loaded on your virtual brush, all it takes is a click to bring your characters to life with the colors you want. The simplicity is the game's biggest strength, making it accessible for gamers of all ages and skill levels.
But wait, there's more! The fun doesn't stop once you've completed your masterpiece. After you're done painting, you can further indulge in the joyous act of popping balloons filling up on your screen - an invigorating mini-game that ensures there's never a dull moment.
If you're someone who finds joy in color or simply looking for an entertaining way to unwind after a long day, the Among Them Painting Book is worth checking out. It's not just about painting Among Us characters; it's about creating art and having fun while at it. This game stands as an epitome of how engaging puzzle games can be when they brilliantly merge easy mechanics with vibrant aesthetics.
In conclusion, this game is a joyful amalgamation of creativity, color, and challenge. The Among Them Painting Book delivers hours of endless fun and is definitely one-of-a-kind in the ever-growing domain of drawing and coloring games.
What are the best online games?