All Seasons Nail Salon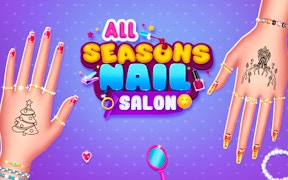 All Seasons Nail Salon
Description
Enter the vibrant world of All Seasons Nail Salon, an engaging kids game where manicure magic happens. Unleash your creativity as you transform plain nails into artistic masterpieces. You get to choose the nail shape, apply paint, and add a glossy polish. To up your nail game further, accessorize with fabulous jewelry and stunning tattoos.
How to Play
The game is played with simple click-and-drag mechanics. Choose the nail shape first, then select your desired color and polish to paint it. Once your base is ready, proceed to select accessories and tattoos from a vast array of options. Your creativity determines how amazing these nails turn out.
Tips and Tricks
To create standout designs, don't be afraid to mix different colors and patterns. Don't forget the power that accessories hold in accentuating your manicure masterpiece. And remember, there's no right or wrong in creativity so let your imagination soar!
Features
Diverse selection of nail shapes, paints, polishes, accessories, and tattoos.
Vibrant graphics and easy controls suitable for kids.
Creative freedom: There are no limits on designs you can make.
Educational: Improves color recognition and enhances fine motor skills.
What are the best online games?