Alien Invaders.io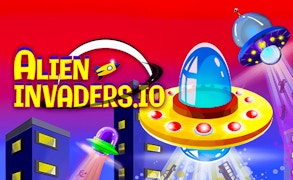 Alien Invaders.io
Prepare yourself for an adrenaline-pumping ride as you navigate your UFO through the perilous universe of Alien Invaders.io, one of the most thrilling survival games out there. It's not just about survival; it's a wild roller-coaster ride of strategic confrontations that will test your instincts, decision-making ability, and quick reactions.
In Alien Invaders.io, you are tasked with guiding a UFO spaceship in a full-blown alien invasion where only the quickest can survive. Every move counts as you dodge, weave, and outsmart other alien invaders. More than just a survival game, it's also one of those unique flying games that truly challenge your maneuvering skills. The goal isn't simply to exist but to be the grandest spaceship and the last UFO soaring.
This exhilarating journey is further amplified by three distinctive game modes: Classic, Solo, and Battle. In Classic mode, the objective is to be the biggest spaceship conquering all others. The Solo mode is an all-you-can-eat buffet where you chew down an entire city to be the ultimate alien entity. Lastly, in Battle mode, prove your worth by being the last UFO standing in this merciless intergalactic arena.
This exceptional fun game also offers a rewarding customization feature allowing you to choose player names and acquire rare skins for your spaceship. There are 6 Rare Skins; 15 Epic Skins; 6 Legendary Skins available to make your ship stand out amongst the crowd. Amplify your gaming experience with boosters like Treasure Chests that add to your resources, Magnets that attract collectibles and Upsize that grants a significant leap in size.
Overall, Alien Invaders.io is not just another survival game but an absolute pandemonium of chaos and strategy seamlessly blended into one highly addictive package. So brace yourselves for an epic alien war as it's time to play Alien Invaders.io NOW!
What are the best online games?