Age of War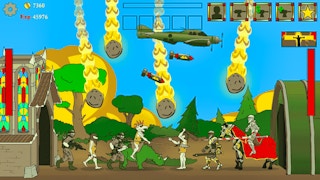 Age of War
Throughout history, warfare has been the center of some of the most significant games in history and you can see how it has evolved in Age of War. This is a 2D real-time strategy game where the land you're on apparently isn't big enough for two groups to coexist. Apparently, everyone on both sides is more than willing to devote their lives to the cause and will join the fight at your command. With the only way being forward, you're going to need to lead and organize them in such a way that they will march to victory and the defeat of the enemy base.
About Age of War
Real-time strategy games can take some getting used to since they require a lot of quick thinking and quick action while managing your resources at the same time. The nice thing about a game like this is that the main input you need to worry about is summoning units and upgrading when need be. All of your forces know exactly what to do and based on how they perform, you can make decisions to compensate for holes in the strategy. The key to any victory is diversifying your army so that you can handle any types of enemies that come your way.
How to Play
Age of War is a 2D real-time strategy game that is controlled by the mouse. In the top right corner of the screen, you'll have access to the necessary menus needed to fight. For offense, you'll need to summon units. Each unit has a set cost and will try to fill one of several roles like melee, ranged, flying, and tank. When summoned, units will slowly make their way from your base on the left side to the enemy base on the right side. They will automatically attack any enemies or the enemy base once it's in range. You also have a special attack denoted by a large icon and label that when activated, will rain down across the battlefield. After use, it will need time to recharge.

For defenses, you have the turret menu. Your base offers spots to place turrets that will attack any enemies that are approaching the base once they get in range. Your turrets will vary in terms of damage, range, and fire rate. Unfortunately, you'll start with limited turret spots, but you can buy additional ones as you earn more money. You can also sell your turrets in a pinch to get some quick money.

To upgrade your forces, you need to advance to the next age. This is done by selecting the start in the top left corner. It'll indicate how much XP is needed in order to advance upon which your base and units will improve. You can earn XP and money by defeating enemy units as well as losing your own in battle. The game will be won once you manage to destroy the enemy base, or lost if your own base is destroyed.
Tips and Tricks
No matter what age you're in, your units will always attack in a line formation. This means that a melee attacker can't attack through a unit in front of them, so always support melee attackers with ranged attackers. Tank units may be expensive but should be employed to buy time to regroup as needed.

Game Details
Developer: louissi
Platforms: Web Browser (PC and mobile), iOS, and Android
Languages: English
Gameplay Footage
FAQs
Is Age of War free?
Yes, the game is currently free to play and download on all the platforms where it's available.

Are there other Age of War games?
This game actually has its own website where you can play the 2nd, 3rd, and 4th installments in the series.

Games similar to Age of War
As you've probably already guessed based on the title, this game is in the Strategy and War Games categories on GamePix. Other titles alongside it include Archer io, Tower Defense, Combat Reloaded, and Special Wars.
Age Of War belongs to Strategy and it is often associated with War Games and Battle Games. This game has received 3680 votes, 3139 positive ones and 541 negative ones and has an average score of 4.2.
It is a game played in landscape and it's playable on Desktop and Mobile on gamepix.com. This game has been published on 2019-12-22, and updated on 2021-11-23.
What are the best online games?
TAGS