Adorable Girls Valentino Fashion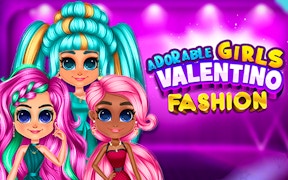 Adorable Girls Valentino Fashion
Description
In Adorable Girls Valentino Fashion, join best friends Willow, Dee Dee, and Noah in a captivating fashion journey. When they hear of an exciting contest, they decide to experiment with the renowned Valentino fashion style. They're keen to win, but they need your expert advice. Help them master the trends and stand out from the crowd!
How To Play
In this game, your mission is to give the girls a stunning Valentino makeover. Use your mouse to choose different hairdos, outfits, and accessories. The goal is to create an impressive Valentino-style look that could lead them to victory in the contest. Every choice you make influences the final result!
Tips and Tricks
To win in this game, remember that Valentino's style is all about elegance and sophistication. Mix and match items thoughtfully. Pairing the right accessories with your outfit is crucial for achieving a perfect Valentino look. Don't forget about unique hairstyles!
Features
A captivating fashion-themed game.
Easy-to-use controls suitable for kids.
Diverse range of outfits and accessories for customization.
Immersive gameplay based on popular Valentino fashion trends.
What are the best online games?