Adam and Eve: Zombies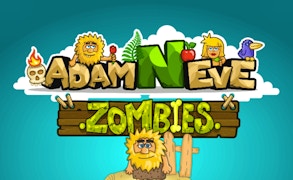 Adam and Eve: Zombies
Welcome to my adventure-filled review of the astounding game Adam and Eve: Zombies. Strap in, because we're about to embark on a journey through the gruesome zombie-infested world, that also happens to be filled with bewitchingly charming and somewhat domesticated, albeit viciously transformed cats.
This game is a unique blend of brain games, escape games, clicker games, zombie games, and yes... cat games. It's an unusual mix that fascinates and delights at every eerie turn. In Adam and Eve: Zombies, Adam's mission is to combat legions of adorable yet deadly cats that have been unceremoniously turned into ravenous zombies. Packed with plenty of fun elements and brain-teasing puzzles, this game requires you to put on your thinking cap while indulging your trigger-happy fingers.
The design may seem simple at first glance but don't let it fool you, as the complexity lies in its gameplay. The journey from being a plain 'clicker' game transcends into a riveting 'escape' game with numerous brain-twisting challenges. Every level brings something new to the table, whether it's maneuvering around the menacing cat-zombies or navigating through a labyrinth of intricate puzzles requiring a degree of strategic forethought.
The quirky combination of horror and humor adds an unexpected twist to the entire gameplay experience. It's like dipping your chips in both salsa and chocolate sauce— strange but surprisingly delightful! The chilling background score coupled with quirky sound effects further enhances your gaming pleasure.
In conclusion, Adam and Eve: Zombies is more than just another adventure game. It's an eccentric blend of genres that caters to all sorts of gamers - puzzle solvers, quick clickers or just plain old cat lovers (with a taste for horror). So get ready to put your brain cells to work, have your clicking fingers poised for action and remember - in this treacherous world...trust no cat!
What are the best online games?