Adam and Eve: Snow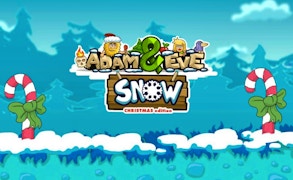 Adam and Eve: Snow
Embark on a frosty journey through the winter wonderland in the latest Adventure genre installment of the beloved series, "Adam and Eve: Snow". A unique blend of brain games, escape games, and clicker games, this delightful holiday episode will definitely top your list of favorite Christmas games.
Fans of the series will find themselves fully engrossed as our brave caveman Adam has been tasked with an important mission that's both fun and challenging - acquiring a Christmas tree for his darling Eve. As you navigate through the snowy landscapes, you'll encounter prehistoric perils and get a taste of dinosaur games, making "Adam and Eve: Snow" a complete entertainment package.
Apart from its enchanting storyline, "Adam and Eve: Snow" also offers a stimulating mental workout. Crafted with unique obstacles that demand creative solutions, these brain-tingling elements take it beyond conventional adventure games to create an immersive experience that is sure to keep you engaged.
This festive feast for your gaming senses offers striking visuals coupled with delightful animations that take you straight into a yuletide scene. The game also flaunts an intuitive interface which makes navigation easy, even amidst the fun chaos of escaping dinosaurs and hunting down Christmas trees!
In conclusion, "Adam and Eve: Snow" seamlessly combines elements from multiple game genres creating an exceptional gaming experience. So whether you're in the mood for some holiday cheer or are looking for an adventure-filled quest, remember that in this frost-bitten landscape lies an intriguing escapade waiting to be discovered.
"Adam and Eve: Snow", it's not just a game; it is a world waiting for your triumphant return each Christmas season!
What are the best online games?