Adam and Eve: Night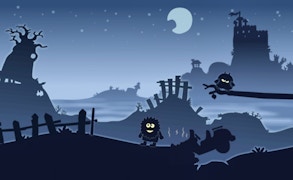 Adam and Eve: Night
Delve into the eerie world of Adam and Eve: Night, a thrilling addition to the realm of adventure games that effortlessly combines elements of brain games, escape games, and clicker games. This spine-chilling tale is not just about confronting your deepest fears but also about quick wit and strategic thinking.
In this bone-chilling Halloween adventure, our protagonist Adam finds himself in a dark, haunted place. The once tranquil moments with Eve are now replaced with a terrifying ordeal; an escape from ghouls and ghosts under the shroud of darkness. The simple yet gripping storyline keeps you on the edge as you guide Adam through his daring escape, making sure his soul does not fall captive to the haunted hills.
Adam and Eve: Night masterfully crafts a balance between fear and fun. It's not just about the spooks; it's also about flexing your brain muscles. The developers have seamlessly woven elements of brain games into the narrative. You need to outsmart the nocturnal creatures lurking in the shadows, making for a compelling combination of scare tactics and strategic gameplay.
Apart from being an action-packed thriller, this game is a brilliant addition to the realm of clicker games. It successfully maintains an engaging pace with straightforward controls that keep you gripped throughout Adam's perilous journey.
The beauty of Adam and Eve: Night lies in its universal appeal. From seasoned gamers intrigued by challenging scenarios to kids who relish light-hearted entertainment - everyone can enjoy helping Adam reach home safely back to Eve.
This Halloween, embark on an unforgettable journey with Adam and Eve: Night. Prepare for an intense blend of horror and fun fuelled by quick thinking and fast clicks!
What are the best online games?