Adam and Eve GO 3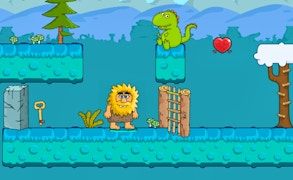 Adam and Eve GO 3
Step into the prehistoric era and embark on an exhilarating journey of love and adventure with Adam and Eve GO 3, a game that promises an engaging mix of brain games and escape games. This game isn't just about surviving the hazards of primitive times, it's a heartwarming story where Adam braves everything to make Eve swoon!
Each level in this thrilling adventure presents a different challenge, keeping you on edge as Adam forges his way towards his beloved Eve. Your ultimate mission? Collect that ravishing rose at each level and deliver it to Eve, all while navigating through a labyrinth riddled with dinosaurs, traps, and other dangers. One could say it's as if Cupid himself had set up these tests!
A standout feature of Adam and Eve GO 3 consists of its 15 unique levels. Each level ups the ante with various obstacles that will put your reflexes to the test. Not only does this game refine your cognitive agility, but it also enhances your strategic thinking abilities. Use the arrow keys to avoid traps or climb ladders, or engage with other objects in this brilliantly designed game world.
The game rewards players who think outside the box – collect those tantalizing fruits scattered throughout levels for extra points! Interact with other characters who might trade items or even keys essential for completing your quest. Remember; every key brings you one step closer to reuniting Adam with his cherished Eve.
If you're up for both fun and challenge that stimulates your grey cells, then Adam and Eve GO 3 is your perfect match! Join this daring caveman in his pursuit of love amidst dangers lurking at every corner in one of the most addictive games ever created!
What are the best online games?
Tags