Adam and Eve GO 2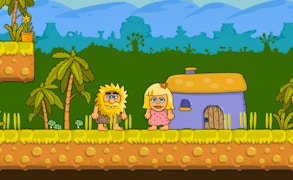 Adam and Eve GO 2
Delve into the prehistoric world with Adam and Eve GO 2, a captivating adventure game that seamlessly meshes elements of brain games, escape games, and clicker games.
Teeming with dangers, challenges, and countless opportunities for fun, Adam and Eve GO 2 showcases a love story that's as old as time itself. Play as Adam, a caveman head over heels in love with Eve, ready to confront any obstacle to bring her the gift of a beautiful rose. Your mission here is not just about romance—it's about strategy, critical thinking, and all-out adventure.
The game is comprised of 15 diverse levels, each filled with dinosaurs, traps, tricky ladders and other prehistoric pitfalls. Navigate through these using clever strategies synonymous with effective brain games. Collection is an important aspect of this game too, making it an intriguing choice for fans of clicker games.
Besides gathering roses for Eve, you'll find yourself collecting fruits scattered throughout each level—an added challenge that fetches you extra points. Interaction is an essential tactic in this game. Approach other characters wisely; you could gain useful items or keys to unlock doors—your pathway to reaching Eve.
Adam and Eve GO 2 epitomizes the essence of escape games as well. With every level littered with traps and obstacles, each move must be carefully thought out to avoid disaster while striving towards your end goal—uniting with your beloved Eve.
In conclusion, this unique blend of genres makes Adam and Eve GO 2 more than just another adventure game—it's a journey through time that challenges your mind while capturing your heart.
What are the best online games?