Adam and Eve GO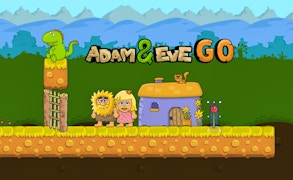 Adam and Eve GO
In the diverse world of adventure genre games, Adam and Eve GO stands out as a shining beacon of fun, innovation, and a true exercise for the mind. This game brilliantly combines elements of brain games, escape games and clicker games, testing your problem-solving skills at every turn.
Adam and Eve GO introduces you to a magical journey where you control Adam in his quest to find Eve and their home. The game is bursting with life; filled with friendly dinosaurs like T-Rex or a Mammoth, immersed in settings that transport you through tropical forests, chilling winterlands, and treacherous undergrounds.
The game delights with its array of humorous characters such as the frozen man or an amusing mummy. It's this blend of comedy and challenge that makes Adam and Eve GO a perfect fit for family play and an exciting choice for kids.
This latest instalment of the popular series offers easy controls to maneuver Adam, adding a layer of simplicity that enhances the gameplay experience. The objective is light-hearted yet compelling - don't forget to bring Eve the red flower!
The game's levels are designed intelligently, keeping players engaged as they traverse through different landscapes meeting funny slaves or combating risks. Each level comes with its unique challenges requiring you to strategise, click, escape & repeat in this enticing loop.
In essence, Adam and Eve GO is not merely a game; it's an adventure waiting to be explored. Its whimsical charm is enticing for players of all ages while still providing a mental workout. Discover the buzzing world of Adam and Eve GO - where adventure meets humour enveloped in delightful gameplay!
What are the best online games?