Adam and Eve: Astronaut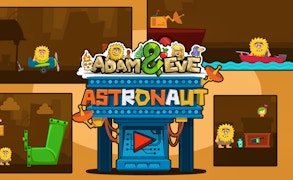 Adam and Eve: Astronaut
Immerse yourself in the captivating world of Adam and Eve: Astronaut, an entrancing addition to popular adventure genre. This thrilling escapade masterfully blends elements of brain games, escape games, and clicker games, creating a unique gaming experience that will leave you wanting more.
The plot throws you into an engaging quest; help Adam escape the confines of Earth and begin a transcendent journey into outer space! The mechanics are simple, yet highly addictive. You'll find yourself lost in time, clicking away fervently, guiding Adam through his celestial odyssey.
What distinguishes Adam and Eve: Astronaut from other mundane adventure games is its ability to test your grey matter. The strategic deployment of brain games throughout Adam's voyage adds a layer of intellect to your endeavor; these aren't just mindless clicks but clicks that require thought, strategy, and precision.
The beauty of this masterpiece lies in its absorbing narrative fluidly integrated with the gameplay mechanics. Their seamless merging creates exhilarating escape sequences that drop your character into situations where his survival hinges on your quick thinking and swift clicking reflexes.
In conclusion, Adam and Eve: Astronaut is a compelling blend of adventure, suspense, intelligence, and excitement. Whether you're a fan of mind-bending puzzles or fast-paced clicker action, this game is sure to offer something for everyone. So strap in for some outer space fun as you guide Adam on his interstellar quest!
What are the best online games?