Adam and Eve: Aliens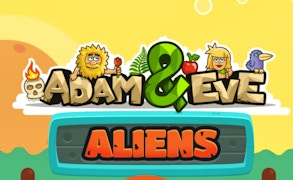 Adam and Eve: Aliens
Welcome to the latest installment in the realm of Adventure Games, Adam and Eve: Aliens. Prepare to plunge into an immersive experience like no other that ticks all the right boxes for fans of brain games, escape games, and clicker games.
The story unfurls as our titular character, Adam, unexpectedly finds himself marooned on a peculiar, uncharted planet. Your role? Help this hapless interstellar traveler navigate this alien landscape and find his way back to his lovely Eve, waiting patiently on Earth.
The game showcases innovative mechanics that elevate it from being just another title in the saturated market of the adventure genre. It is an inventive fusion between an escape game and a clicker game, requiring strategic thinking and quick reflexes. Furthermore, it incorporates elements of brain games, presenting players with clever puzzles to solve as they assist Adam in his otherworldly predicament.
The charm in Adam and Eve: Aliens lies not only in its unique gameplay but also in its captivating narrative. It elicits a sense of curiosity as you delve deeper into the unknown, meeting curious creatures and tackling unexpected challenges - making it an ideal choice for those hunting for a rich, interactive storytelling experience.
This title doesn't shy away from being family-friendly either. Its vibrant visual design, interspersed with light-hearted humour and intuitive gaming mechanics make it a suitable choice for gamers of all ages. So whether you're searching for something to keep your kids engaged or looking for a casual game to unwind after a long day–Adam and Eve: Aliens has got you covered.
In summary, Adam and Eve: Aliens is more than just a game – it's an adventure that draws you into its cosmic journey while keeping your grey cells agog with its intelligent problem-solving scenarios. A must-play for any fan of adventure-filled brain games!
What are the best online games?