Adam and Eve: Adam the Ghost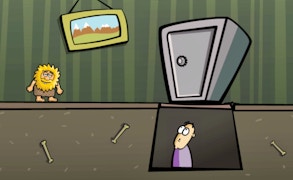 Adam and Eve: Adam the Ghost
Unveil the spooky allure of Adam and Eve: Adam the Ghost, a quirky amalgamation of brain games, escape games, and clicker games that is sure to enthral every adventure-seeking gamer. Amidst the glut of adventure offerings, this small but potent gem shines with its unique gameplay mechanics and loveable protagonist.
At its heart, Adam and Eve: Adam the Ghost is an engaging brain teaser that requires cerebral agility to master. The game's focus on strategy and logic makes it a crown jewel among brain games. The intricacies in each level will keep you on your toes, making this not just a game, but a mental workout coated in fun.
Merging tension with exhilaration, this game also adds a dash of escape-game dynamics. You're given thrilling scenarios where you must help Adam scare away as many individuals as possible. You'll find yourself immersed in suspenseful gameplay, where quick-thinking and creativity are your greatest tools—just like traditional escape games.
Integrating elements from clicker games, each click plays a vital role in progressing Adam's ghostly journey. This simple yet addictive mechanism is pure delight for fans of clicker games. With every click impacting Adam's quest to scare people, the tension never subsides.
The titular character Adam brings an element of charm and relatability that draws players into his spectral world. He might be new in this ghostly role, but with your help, he won't be an amateur for long! Underneath all the high-octane adventure and jumpscares lurks a heartwarming tale of our favourite character trying to fit into his new shoes—or should we say, his new ghostly apparition?
In conclusion, Adam and Eve: Adam the Ghost is a heady mix of mental challenge, suspenseful scenarios, soothing click mechanics wrapped up in an endearing narrative. It's much more than just another adventure game—it's an unforgettable experience.
What are the best online games?