Adam and Eve 7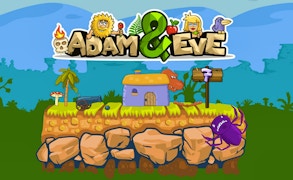 Adam and Eve 7
Welcome to our latest adventure games review where we dive deep into the thrilling prehistoric world of Adam and Eve 7. This game is exceptional, not just as an entrant in the realm of dinosaur games, but also in the wide world of escape games. It's a delightful blend of prehistoric peril and evocative conundrum-solving, a delight for all those who love to test their mettle with brain games.
Our protagonist pair, Adam and Eve, land themselves amidst dangerous dinosaurs in an artistically designed paradise amped up by new puzzles. Go on this adventure and you'll find yourself entrenched in a world of carnivorous reptiles, enigmatic riddles, and a primal struggle for survival. The game draws you in with its simplistic charm akin to nostalgic clicker games, mixed with the thrill and challenge that comes from escape-oriented gameplay.
The beauty of Adam and Eve 7 is how it combines such diverse genres into one cohesive whole - not merely defying categorization but embracing the unconventional. The puzzles are craftily designed to engage your brain gears, making it an attractive addition to the repertoire of brain games. But it's not all mind-bending riddles, the game balances out with exhilarating chases and stealthy escapes from ferocious dinosaurs adding onto its unique appeal among dinosaur games.
In essence, if you're a fan of adventure that includes outsmarting prehistoric beasts while deciphering complex puzzles, then Adam and Eve 7 is your go-to game. With its brilliant blend of strategy-oriented puzzle-solving and danger-infused escape sequences - this game is one hell of a ride! Get clicking right now on this top choice among both dinosaur and brain-games enthusiasts.
What are the best online games?