Adam and Eve 6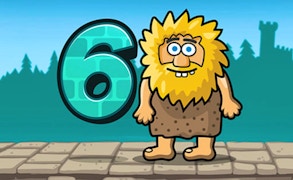 Adam and Eve 6
Welcome to the world of Adam and Eve 6, a game that takes you deep into the heart of prehistoric times, where dinosaurs roam freely and the click of a button can change everything. This title delivers an exciting blend of brain games, escape games, and dinosaur games, all rolled into one adventure-packed ride.
The narrative throws you right into the action as our hero Adam embarks on a delightful yet perilous journey to find his beloved Eve once more, marrying classic love stories with a Jurassic twist. As a player, you're not just an idle bystander but the driving force behind this romantic expedition.
The beauty of this game lies in its simplicity, making it highly accessible to gamers across all spectrums. It's not just about flexing your gaming muscle but also your brain power. The brain games aspect keeps you on your toes as you encounter interesting puzzles and challenges. It's an incredible blend of fun and stimulation, ensuring each level offers a fresh dose of excitement.
Incorporating elements of clicker games, every interaction in this game is a literal point-and-click adventure. These interactive sequences are woven so naturally into the gameplay, amplified by the thrilling anticipation that accompanies each click.
Dinosaur games fans will have a field day in this Pleistocene playground which is teeming with vibrant visuals and prehistoric creatures. Dodge dangerous dinos, outsmart massive mammoths and evade creepy crawlies to reunite Adam with his one true love.
In conclusion, Adam and Eve 6 is not just an ordinary tale of love lost and found; it redefines adventure gaming in so many ways while tickling your problem-solving skills. Be it escape enthusiasts, brainiacs or dinosaur lovers - there's something for everyone here!
What are the best online games?