Adam and Eve 4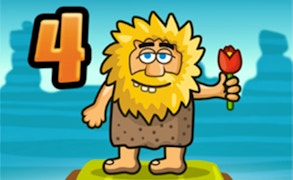 Adam and Eve 4
Embark on a prehistoric adventure with one of the most heartwarming dinosaur games out there. Adam and Eve 4, the latest installment in the widely-popular series, takes players on a whimsical journey through a world teeming with delightful puzzles and lovable dinosaurs.
This isn't your typical clicker game; Adam and Eve 4 boasts an intricate storyline suffused with charm and humor. Our protagonist, Adam, is once again on a quest to find his true love. The question is - will he succeed? With your help, he just might! From problem-solving to quick reflexes, you'll need all your gaming skills to guide Adam through this enchanting world of mystery and intrigue.
True to its tags, Adam and Eve 4 is a potent mix of brain games, escape games, dinosaur games, and clicker games. As an escape game, it challenges you to look at environments in new ways as you help Adam avoid being snack-time for prehistoric predators. As part of the compelling clicker genre, rapid clicking sequences bring high-intensity excitement into the mix.
This game pushes the boundaries of traditional dinosaur games by introducing elements of brain games into the mix. Solving riddles and puzzles is not only fun but also keeps your mind sharp as you move up levels.
In terms of gameplay, design, and overall user experience, Adam and Eve 4 shines brightly in the adventure genre. Its unique story setting makes it stand out amongst traditional dinosaur games making it no less than a captivating journey from start to finish.
If you're a fan of brain games, dinosaur games, or adventure in general then buckle up because Adam's journey in search for his true love is going to be one helluva ride!
What are the best online games?