Adam and Eve 3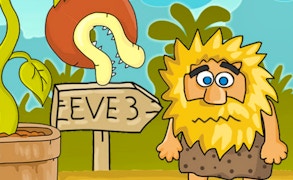 Adam and Eve 3
Step into the prehistoric world of Adam and Eve 3, a captivating addition to the realm of adventure games that masterfully merges the thrilling aspects of escape games with the intriguing complexity of brain games. If you have a penchant for games with a twist, you will find an endearing companion in Adam in his relentless pursuit to find his Eve for the third time.
The ingenious premise of this game gives it an irresistible allure. Its blend with enchanting narrative elements is bound to immerse gamers into the heart of a fascinating dinosaur-driven universe - reviving your fondness for dinosaur games.
In Adam and Eve 3, each level is cleverly designed as a thought-provoking puzzle, consistently testing your wits. As you explore strange terrains and interact with whimsical creatures, keep your eyes peeled for concealed clues that can lead you to your next step. The gameplay also adopts elements from clicker games, where a simple click can spark off unforeseen consequences, catapulting you further into Adam's quest or trapping you in an intricate conundrum.
The stakes are high and the challenges many, but Adam's endearing charm and unyielding determination make this intense journey an engagingly fun ride. So strap in for this riveting escapade through time and puzzle your way out from dinosaurs' jaws!
In conclusion, if challenging puzzles and engaging narratives wrapped in beguiling scenic backdrops are what you crave in adventure gaming, then losing yourself in the bewitching world of Adam and Eve 3 is an opportunity not to be missed.
Remember that gaming isn't merely about winning; it's about understanding the story behind every character, their motives, their dreams, their conquests – just like Adam's pursuit of his beloved Eve.
What are the best online games?