4x4 Offroad Monster Truck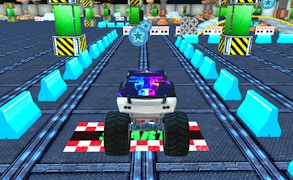 4x4 Offroad Monster Truck
Immerse yourself in the exhilarating world of 4x4 Offroad Monster Truck, a stepping-stone in the realm of car games and truck games. This isn't just a game but an absolute horizon of thrills and chills, invoking both the speed demon and the off-road explorer within you.
The adrenaline rush begins the moment you start your engines. With Monster Trucks, 4x4 off-roaders, and six-wheeled Behemoths at your disposal, you feel like Goliath ready to conquer not just a race track, but the challenging terrains that come across. Each vehicle is a beast waiting to be tamed, forming an integral part of this glorious addition to our beloved driving games.
In 4x4 Offroad Monster Truck, every barrier is a challenge to your skill, courage, and determination. It's not just about crossing barriers; it's about how stylishly you do it. As sure-footed as a mountain goat yet with the power of a charging rhino, this game fits perfectly into our much-loved genre of offroad games.
The gameplay is smooth, responsive, and packed full of turns that would even make a roller-coaster cry! The graphics are crisp and realistic enough to make you double-check if you're actually behind the screen or in the driver's seat! The sound design complements this visual treat with roaring engines and squealing tires that get your heart racing even before the race starts!
To sum it up, 4x4 Offroad Monster Truck isn't just another entrant into car games, it's an experience; it's an adventure! Whether you're a casual gamer looking for some fun or a hardcore gamer seeking for challenging terrains - this game has aspects to quench every gamer's thirst. So buckle up, start those engines and let 4x4 Offroad Monster Truck kick your gaming experience into high gear!
What are the best online games?