4x4 Monster Truck Driving 3d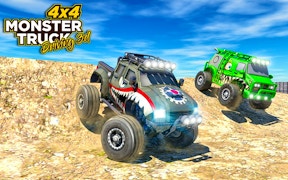 4x4 Monster Truck Driving 3d
If you thirst for the adrenaline rush of car games and driving games, get ready to face a unique and exciting off-road challenge in the heart of the 4x4 Monster Truck Driving 3D. This game will take you on an unmatched escapade that only the most daring dare to undertake.
The breath-taking environment of this game, set on unpredictable offroad terrains like snow tracks, rain tracks, and mountainous climbs will test your driving skills to their limit. But, this is exactly what makes 4x4 Monster Truck Driving 3D, stand out from other offroad games and truck games.
This game brings an exhilarating cocktail of thrill, adventure, and skill. The unique levels will compel you to forget your comfort zone and embrace the wild side. Be it navigating through zig-zag paths or uphill mountains roads, every challenge is designed to give you a jolt of excitement.
Monster Truck Freestyle 2020, as it's also known, requires nothing less than a fearless driver behind its wheel. The game rewards those who are daring enough to take on its challenges and go beyond their limits. It dares you to conquer it's unpredictable environment packed with jaw-dropping missions that requires precision in every manoeuvre.
A true joyride for all monster truck enthusiasts - 4x4 Monster Truck Driving 3D is a testament to the thrilling world of freestyle stunts. Every day thousands of gamers delve into this thrilling journey making it one of the top-rated monster truck driving games. So buckle up, rev up your monster engine and gear up for an unrivalled off-road experience!
What are the best online games?