4x4 Monster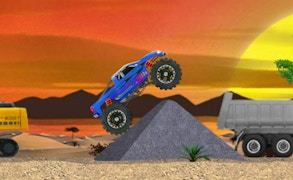 4x4 Monster
Dive into a world of pure adrenaline with 4x4 Monster, one of the most immersive offroad games currently on the market. Ignite your love for driving games anew as you navigate a hefty beast of a vehicle over rugged terrains and boundless obstacles. With its top-notch graphics and robust gameplay, this game is a force to be reckoned with in the realm of car games and beyond.
Unlike your average racing game, 4x4 Monster brings you an authentic offroad experience. You are handed the keys to a power-packed monster truck and challenged to traverse some of the most challenging terrains you've ever seen. This mighty beast doesn't race down smooth, city streets; it climbs mountains! It's like piloting a ship through a stormy sea, except your ship is an all-powerful 4x4 monster truck, and your sea is an untamed wilderness.
What truly sets 4x4 Monster apart from other truck games, though, is its emphasis on realism. The meticulous detail put into creating each terrain makes every rock and ripple feel palpably real. Add to that the varied weather conditions that directly affect gameplay - it's no wonder why 4x4 Monster has become a benchmark in delivering exhilarating offroad adventures.
From scaling steep inclines to mastering precarious descents, every moment in 4x4 Monster is designed to keep you on the edge of your seat. The game tests not only speed but also strategy and vehicular control. It propels driving games into new exciting directions where precision driving skills become crucial elements for progress.
All said and considered, if you're looking for heart-pounding excitement combined with strategic navigation in your next racing endeavor, 4x4 Monster won't disappoint. Whether you're new to the world of racing games, or an experienced gamer looking for a new thrill — this game should top your list.
What are the best online games?