3D Air Hockey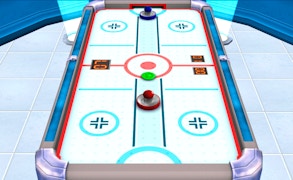 3D Air Hockey
Immerse yourself in the electrifying world of 3D Air Hockey, a superb entry in the genre of sports games that will keep you glued to your screens for hours on end. This game effortlessly combines the fast pace of hockey games with the exhilarating thrill of ball games, presenting you with a gaming experience that is simply unmatched.
The game kicks off on an incredibly high note, inviting you to smash the puck into your opponent's goal with ruthless precision. You'll find yourself caught up in a gripping contest, where every hit counts and the first to reach the target score emerges as the winner. The graphics are truly stunning, creating a realistic 3D playing field that enhances every action & reaction.
As any seasoned pro of hockey games would know, strategy is as important as strength. And 3D Air Hockey brings this critical element to centre stage. Anticipate your opponent's moves, develop quick reflexes and aim with deadly accuracy. In this arena, being swift is just as important as being sharp.
The sound design of 3D Air Hockey provides an invitingly crunchy auditory feedback every time you send the puck flying across the ice, adding to the overall immersive experience and keeping your adrenaline pumping throughout. Both single player and multiplayer modes are available for those looking for solo challenges or wanting to take on their friends in head-to-head competition.
In conclusion, whether you're an avid fan of ball games, a hockey enthusiast, or simply someone who enjoys intense sports simulation games, 3D Air Hockey has something for everyone.This game truly brings out all the excitement and challenges synonymous with real-life hockey matches.
3D Air Hockey, this incredible sports game masterpiece shouldn't miss out from anyone's gaming collection!
What are the best online games?
TAGS