3 Pandas 2. Night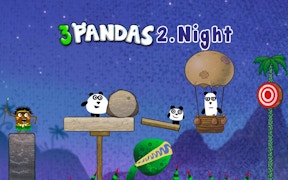 3 Pandas 2. Night
Immerse yourself in the enchanting nocturnal realm of 3 Pandas 2. Night, an intriguing amalgamation of animal games, brain games and escape games. This adventure game transports you to a fascinating island where your wits and instincts will be put to the ultimate test.
Our famous furry trio returns in this sequel with renewed vigor, each panda embracing unique capabilities that become instrumental for their survival. The journey unfolds under the mystical veil of nightfall, a setting that adds an enthralling layer of complexity and suspense.
The gameplay is meticulously woven in a way that it encourages strategical thinking and logical reasoning. The allure of brain games comes alive as you manipulate buttons, scale ladders, and activate mechanisms to overcome obstacles. This game necessitates efficient teamwork among the pandas, thereby teaching players about unity and collective problem-solving.
With user-friendly controls at your disposal, navigating 3 Pandas 2. Night is delightfully seamless. A simple click commands your pandas' movements while clicking above them prompts them to jump. The slender panda can securely hold its peers while the smaller one fits into unreachable areas. The broad panda's strength comes into play as it uplifts the other two pandas.
In line with its successful predecessor, 3 Pandas 2. Night offers an intellectually stimulating experience wrapped in an engaging storyline and vivid graphics; a testament to its standing amongst popular escape games.
In conclusion, whether you're a fan of adventure or animal games, 3 Pandas 2. Night, with its captivating narrative and challenging puzzles, offers an unforgettable gaming experience that leaves you yearning for more.
What are the best online games?