2048 Drag and Drop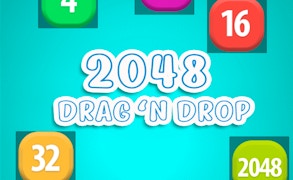 2048 Drag and Drop
Description
In 2048 Drag and Drop, your mission is to merge numbers in order to reach the coveted sum of 2048. It's a casual game that creates a relaxed yet stimulating environment for any player. With each number you merge, the challenge grows, but so does the satisfaction. The easy and addictive gameplay will keep you hooked for hours.
How to Play
The controls are simple and intuitive: just drag and drop the tiles on the grid. Your goal is to combine tiles with the same number, thereby doubling their value until you reach 2048. Each move introduces a new tile on the grid, so plan ahead and stay on top of your game!
Tips and Tricks
To excel at this game, focus on merging your higher numbered tiles first. This will keep your board less cluttered, giving you more room to maneuver new tiles. Also, try to keep your highest value tile in a corner; it's easier to combine lower numbers around it.
Features
Addictive Gameplay: Easy to learn, hard to master concept keeps you coming back for more.
Calm Environment: Its serene setting helps you relax while exercising your brain.
Intuitive Controls: Simple drag and drop mechanism makes playing a breeze.
Cognitive Enhancement: It's not just fun—it's also a great way to improve numerical and strategic thinking skills.
What are the best online games?