2048 Billiards 3D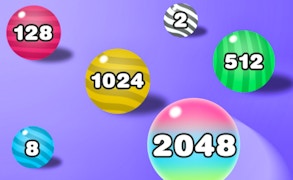 2048 Billiards 3D
Experience the perfect blend of classic pool and suduko in the nerve-wracking free puzzle online game, 2048 Billiards 3D. This game is an ingenious mix of ball games, pool games, and number games, crafted meticulously to engage the modern gamer boys who relish a good, enthralling mind-boggler.
If you find yourself constantly entranced by the complexities of 2048 games, or if you are a lover of challenging brain games, then 2048 Billiards 3D is sure to become your new obsession. The aim is simple yet mesmerisingly nuanced: find the accurate angle and merge target balls with matching numbers. With every successful merger, not only are you closer to unlocking the elusive 2048 ball, but also stand to earn more gold coins. The allure of this online puzzle game lies not in just scoring big, but more importantly in perfecting your strategy and becoming an ace pool player.
The escalating difficulty spread over endless levels offers constant challenge and ensures non-stop entertainment. The game's additional features offer props that can be unlocked using gold coins, adding yet another layer of intrigue and strategy to this already captivating game. Whether a novice or a seasoned pro, each gamer finds their skills tested, their mettle challenged and their capabilities stretched to the maximum. Don't just play; outplay yourself in this addictive blend of strategy, skill and luck.
Can you conquer the board? Can you complete the corresponding targets? And most importantly, can you successully merge the 2048 ball? Dive into 2048 Billiards 3D today and embark on a journey where every turn counts and every number has a tale to tell.
What are the best online games?