2 Side Jump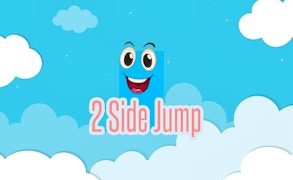 2 Side Jump
Description
In 2 Side Jump, your goal is to survive in a never-ending, obstacle-filled environment. This engaging, one-tap arcade game demands quick reflexes and split-second decision making. The character automatically runs, and your job is to skillfully time jumps and alternate between two positions to evade all incoming hazards. Stay alert, stay alive!
How to Play
This game utilizes easy-to-understand but hard-to-master mechanics. Simply tap the screen to execute a jump. To change positions, tap while the character is mid-air. Remember, your movements should be perfectly timed with the incoming obstacles; else you lose! Practice regularly to improve your reflexes and set new high scores.
Tips and Tricks
Playing 2 Side Jump requires fast reflexes. Familiarize yourself with different types of obstacles and learn how best to maneuver around them. Always keep an eye on what's coming next and plan your jumps accordingly.
Features
Highly addictive gameplay: It's easy to pick up but hard to put down.
Infinite runner style: The game doesn't end until you fail.
Crisp Graphics: An appealing visual design that guarantees smooth gameplay.
Simplistic controls: Just one tap is needed for jumps and position swaps.
Paced Progression: The game gets tougher as you advance, ensuring a challenging experience.
What are the best online games?