2 Player Red Blue Pirates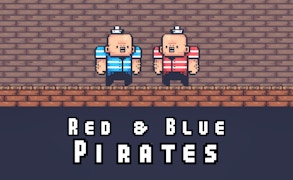 2 Player Red Blue Pirates
Description
In 2 Player Red Blue Pirates, embark on a thrilling nautical adventure with the courageous twin pirates. These adorable yet formidable characters require your help to overcome obstacles and evade adversaries. Their mission is to gather all six bombs and navigate their way to the exit. Each level is a test of survival - so gear up for an exciting pixelated action experience!
How to Play
The game offers simple and intuitive controls. Use WASD keys or the arrow keys to guide the pirates. Leverage the double jump feature for those tricky high spots. In need of portable fun? The game also provides mobile touch control. Gather all bombs and reach the door before time runs out!
Tips and Tricks
Prioritize collecting bombs but always remain vigilant of enemies. Utilize your double jump effectively to avoid dangers and climb heights. Remember, teamwork between the Red and Blue pirate is key to progressing in this game.
Features
Addictive two-player cooperative gameplay in a pirate theme.
Vibrant pixel art graphics that add charm to your adventure.
Action-packed levels filled with enemies, obstacles, and collectibles.
Suitable for both computer and mobile play with flexible control options.
What are the best online games?