18 Wheeler Driving Sim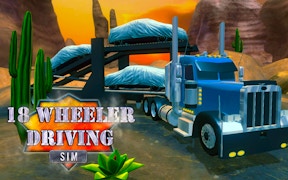 18 Wheeler Driving Sim
Immerse yourself in the thrilling and relentless world of 18 Wheeler Driving Sim, the pinnacle of truck games and driving games. This adrenaline-pumping game pulls no punches when it comes to simulating the hardcore reality of navigating an 18-wheeler, making it an exhilarating addition to the world of simulator games.
As you take command of these formidable freight machines, you'll traverse offbeat trails, embodying the thrill of Offroad games. Your mission is simple: deliver your cargo safely and swiftly through unforgiving terrains. Whether it's dense forests or rugged hills, every off-road challenge in this game tests your driving mettle, pushing you from being a rookie driver to a seasoned pro.
The diverse range of cargo you'll need to transport keeps gameplay refreshing and engaging. Your rewards aren't just monetary - as you conquer more challenging routes, new types of cargo become available for delivery. It adds an element of progress that sets it apart from typical parking games.
The thematic realism paired with intuitive controls combine to create a compelling gaming experience that's not so easy to put down. But where 18 Wheeler Driving Sim shines is in its need for strategy - deciding when to slow down to prevent damaging your freight, and when to speed up to meet deadlines. It's more than just a game; it's a testbed for your driving and strategic planning skills.
In conclusion, 18 Wheeler Driving Sim brings an unparalleled level of excitement and authenticity in the realm of truck games. Its captivating gameplay mechanics intertwined with high-risk high-reward decisions make it a standout in both simulator games and skill games categories. Strap yourself in for a heart-pounding journey that will take you across the most treacherous routes you've ever endured!
What are the best online games?