100 Metres Race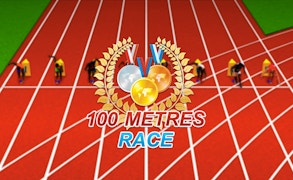 100 Metres Race
In the ever-expanding universe of sport games, particularly running games and gymnastics games, there is a beacon that stands out like a gold medal on the podium of champions. That diamond in the rough is none other than the exhilarating HTML5 sport game, 100 Metres Race.
As you lace up your virtual sneakers and ready yourself at the starting line, you find yourself confronted with a truly unique gaming experience. You're pitted against some of the finest runners in the world, each bearing their own distinct skill sets and gameplay mechanics. This isn't just about speed - it's about strategy, precision, and patience. It's a thrilling race to beat their time and claim that coveted top spot in the 100 metres race.
In this game, victory doesn't just reward you with bragging rights but also with medals which serve a dual purpose. Not only do they symbolize your domination over your opponents, but they also feed into one of the game's most engaging mechanisms: they increase your energy levels. The more medals you gather, the more stamina you gain – ensuring that each match is not simply a test of speed but an exercise in resource management as well.
This is no ordinary racing game; it's a rigorous gymnastics routine of mental agility rolled into one fantastic package every sports enthusiast will love! So step up to the podium of champions and break away from the pack with 100 Metres Race. It's an adrenaline pumping race for supremacy over a short but intensely competitive distance.
With its unique blend of speed, skill and tactics, 100 Metres Race carves out its own niche within the realm of running games. It's not just about crossing the finish line first—it's about how strategically you play your cards to ensure that victory becomes more than just a mere possibility—it becomes your destiny.
What are the best online games?