ZUMAR DELUXE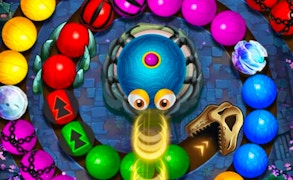 ZUMAR DELUXE
Prepare to dive into a world of color, adventure, and match-3 fun with Zumar Deluxe. This ball game stands out within the crowded field of Bubble Shooter Games, revitalizing the genre with ingenious gameplay and smooth controls.
As an explorer in the vibrant realm of Zumbla Deluxe, you're tasked with blasting through walls of multicolored marbles. This mission might seem straightforward initially, but as you venture deeper into the game's challenge mode, you'll discover a complexity that keeps each level refreshingly unpredictable. The marbles block your path, requiring careful aim and strategic planning to clear. If you're adept enough to accomplish this while also helping the adorable frog marble keep his jungle territory safe, you'll be well on your way to achieving a coveted three-star rating for each level.
What sets Zumar Deluxe apart from other ball games isn't just its bright graphics and engaging gameplay. It's also the way it seamlessly blends elements from Bubble Shooter Games and match 3 games to create an experience that's familiar yet unique. As rows of marbles snake their way across the screen, you'll have to think quickly to line up shots and create matches before they reach your base.
Whether you're a seasoned player of match 3 games looking for a new challenge or simply a fan of visually stunning arcade games, Zumar Deluxe is sure to captivate. With its blend of strategic gameplay and high-octane action, it certainly deserves a place in any gamer's collection.
In conclusion, Zumar Deluxe, with its blending styles from ball games, Bubble Shooter Games and match 3 games wrapped in such a visually appealing package makes it a must-play for any arcade lover.
What are the best online games?