Zrist DX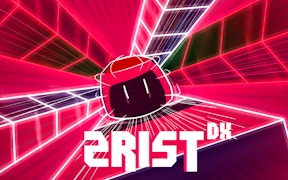 Zrist DX
Description
Welcome to the vibrant universe of Zrist DX, an exciting endless runner arcade game where your adaptability is put to the test. Players must dodge numerous obstacles that come their way amid a dynamically changing landscape. The rules shift at regular intervals, making navigation unpredictable but thrilling. Earn credits throughout this journey for purchasing stylish outfits, adding a flair of fashion to the fast-paced gameplay!
How to play
The gameplay in Zrist DX remains simple yet engrossing. Your character runs automatically, and your job is to dodge obstacles by pressing the correct direction keys. The controls include arrow keys for movements and spacebar for jumps. The game becomes more challenging as it progresses, with rules and environment changing rapidly. Earn credits with each session and use these to buy new costumes in the game's shop.
Tips and Tricks
In Zrist DX, anticipation is key. Always be alert for sudden changes in rules or environment. Adapt quickly and don't get stuck on any pattern because nothing stays the same for long here! Remember, collecting credits is important; they make you look stylish and give bonus points as well.
Features
Simplistic Design: Easy-to-understand interface making it accessible for all.
Dynamically Changing Rules: Keeps the player engaged by offering challenging twists.
Fashion Element: Offers a range of trendy outfits that can be purchased with credits earned.
Endless Gameplay: Provides hours of non-stop fun in a rapidly altering environment.
What are the best online games?