Zoo Boom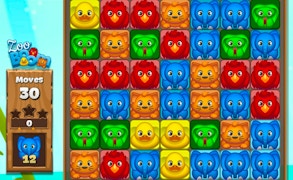 Zoo Boom
Welcome to the enchanting world of Zoo Boom, a delightful and colorful match 3 game that will undoubtedly appeal to both the young and young at heart. This game, which beautifully combines the popular elements of animal games and puzzle games for kids, will keep you entertained for hours on end.
The premise of Zoo Boom is simple yet deeply engaging. You are tasked with matching adorable animal cubes in an ever-evolving set of complex challenges. The vibrant graphics and loveable characters make this one of the most appealing match 3 games on the market.
The journey to conquer Zoo Boom's countless levels is filled with excitement, fun, and a dash of cuteness. The game welcomes players into a variety of interesting environments where they interact with different animal cubes, which adds another level of engagement and strategic depth. This intricacy elevates Zoo Boom above other conventional Games for Kids.
The endearing animals add a unique twist to this classic puzzle format, taking it from a simple pastime to an incredibly delightful gaming experience. Be it colorful parrots that disappear in a vibrant burst or pandas that break into adorable dances upon being matched, every moment is full of charm.
In conclusion, Zoo Boom stands out not just as a top-rate match 3 game, but also as a captivating entry in the ever-growing genre of animal games. The charming aesthetics combined with mind-bending puzzles create an immersive world that will keep players engaged for hours on end. If you're looking for an imaginative, kid-friendly game that is as challenging as it is cute, then look no further than Zoo Boom!
What are the best online games?