Zombs Royale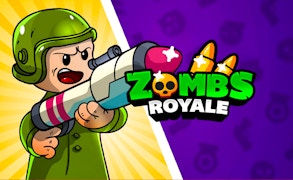 Zombs Royale
Thanks to Fortnite, a huge trend in battle royale games was started and it's still hanging around in games like Zombs Royale. This is an interesting take on the genre that presents a top-down 2D view of the battlefield. In many ways, you can appreciate a whole other side to the battle royale event with a perspective that offers a lot of information so that you can react and respond accordingly. Of course, it can seem a bit harsh to newcomers but there's no harm in jumping into match after match until you get the hang of it and are battling with the best of them.
About Zombs Royale
For those intimidated by battle royale games that have all the details and complexities like Fortnite and PUBG, this is a good way to get into it. The top-down view is very generous in terms of what it shows you while you're landing and when you're on the ground. It's also fairly intuitive as you go up to every sparkling object and learn what it's all about. It's fast to navigate and try out a variety of different items and weapons. You may or may not run into a more experienced player within the first few seconds, but it's all a learning experience.
How to Play
Zombs Royale is a 2D top-down battle royale game that is controlled between the mouse and the keyboard.
Controls
Mouse Cursor - Aim
W/Up Arrow - Move Up
S/Down Arrow - Move Down
A/Left Arrow - Move Left
D/Right Arrow - Move Right
E - Interact with Objects
Number Keys - Select Item Slot
Left Mouse Button - Use Item/Weapon
R - Reload
M - Toggle Map
Tab - Hold Map
T - Spray
RMB - Use Emotes
Regardless of what game mode you're playing, the goal is to eliminate opposing players. You typically start with only your bare fists and you can punch enemies to damage them or objects to break them. Crates and chests scattered around the field will contain items such as weapons or potions that can provide shields and healing. If you get eliminated, you need to wait until the next game to try again. You'll win if you (or your team) are the last one standing.
You can view your progress in the current season on the right side of the game mode selection. The more you play, the more you advance with every tier offering you new cosmetics to equip and items like XP, coins, and sprays.
Tips and Tricks
As a battle royale game, you need to be fast and constantly keep moving as players will almost always be on the hunt. You should also take advantage of objects while exploring and in battle since they can provide much-needed protection. Potions take a while to consume and leave you vulnerable, so never drink them out in the open.
Zombs Royale Game Modes
The current version of the game offers several game modes with the possibility to introduce new modes or temporary special events.
Solo - The classic mode that pits you against every other player.
Duo - Team up with a partner to take on everyone else.
Squad - Create a team of four and fight to be the best squad out there.
Crystal Clash (Event) - Join a team and defend your crystal while attempting to destroy the opposing team's crystal.
Zombs Royale Loadouts
Some game modes will give you the option to start with certain weapons which are also weapons that can be looted from crates and chests.
Scout - Arm yourself with an SMG for short bursts at close range in busy battles.
Rocketeer - Seek to do massive damage with a long-range slow-firing Rocket Launcher.
Assault - Equip an Assualt Rifle for balanced conflict at close and long range.
Marksman - Take up a Sniper Rifle and aim to take out enemies from far away.
Cosmetics and Shop
You start off as a large rounded-headed guy with two empty fists, but you can change this with cosmetics. Check this selection by clicking the icon on the left side of the Main Menu and browse through hats, shirts, and other various accessories.
If you want more cosmetics, you can visit the shop which is also on the left side of the Main Menu. By using coins and gems earned by playing through the game, you can buy specific cosmetics or gamble on a chest to get a batch of randomized cosmetics.
Game Details
Developer: End Game and Yang Chang Liu
Platforms: Web Browser (PC and mobile), iOS, and Android
Languages: English
Gameplay Footage
FAQs
Is Zombs Royale free?
The game is free to download and play across all available platforms. However, you can spend money on in-game purchases.
Is Zombs Royale a clone of Fortnite?
The concept is similar with Fortnite but Zombs Royale have 2D graphics with a simple and instant mechanic.
Games similar to Zombs Royale
Having similarities with other online games, this one can be found in Battle Royale and Cool Games categories on GamePix. Other titles in these libraries include Call of Tanks, Just Build, Build Royale, and Bullet League Robogeddon.
What are the best online games?