ZombieHunter.IO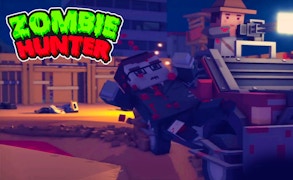 ZombieHunter.IO
Immerse yourself in the eerie, post-apocalyptic world of ZombieHunter.io, a thrilling online game that excels in the zombie games, survival games, and gun games genres. Step into the worn-out boots of a lone survivor, fighting to stay alive in a desolate wasteland teeming with relentless hordes of the undead.
From the get-go, ZombieHunter.io sets an intense, spine-chilling tone that keeps players on their toes, making it an addictive addition to the burgeoning zombie games category. The game draws you in with its dark atmosphere and keeps you hooked with its gripping gameplay mechanics. Your objective? Survive against all odds and defeat both zombies and other survivors to emerge victorious.
In this high-stakes world of survival, every choice matters. You need to strategically wield your firearms - a heart-racing feature for fans of adrenalizing gun games. But remember each bullet counts! Run out, and you might end up becoming zombie food.
Gaining experience through each kill is critical for levelling up - a staple component that adds depth to this fast-paced online game. Outsmart your opponents, outmanoeuvre the undead and stand as the last one alive if you wish to reign supreme in this captivating setting of survival games genre.
ZombieHunter.io is an adrenaline-pumping rollercoaster ride that will keep gamers engaged for hours at end. The game cleverly plugs into our primeval fear of zombies while pushing us to prove our survival instincts when faced with extreme adversities. So gear up, lock and load your weapons because in ZombieHunter.io, it's either hunt or be hunted!
What are the best online games?