Zombie Colosseum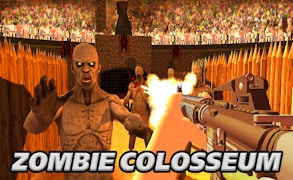 Zombie Colosseum
Description
Welcome to Zombie Colosseum, an unending world of confounding zombies and exciting escapades. This highly engaging adventure game puts you in the shoes of a brave warrior, trying to survive and thrive in a post-apocalyptic world overrun with zombies. Watch as the game adds new layers of difficulty with each passing level, challenging your survival skills to the core.
How to play
Control your character using the directional keys or WASD keys. Initiate attack on the zombies by pressing Spacebar or clicking your mouse button. Progress through the game by successfully eliminating all incoming zombies, while maintaining your health and ammo count. The progression system rewards strategic gameplay and efficient resource management.
Tips and Tricks
Wise use of resources is key in Zombie Colosseum. Prioritize eliminating larger groups of zombies at once for maximum efficiency. Always keep an eye on your ammo count, maintain distance from zombies, and remember that retreat sometimes is crucial for survival.
Features
Engaging Gameplay: The game's challenging levels and intriguing storyline keep players hooked from start to finish.
Innovative Controls: Easy-to-use controls make manoeuvring through the zombie-infested world a breeze.
Diverse Armor & Weapons: A wide array of armor suits and weaponry helps you battle against increasing waves of zombies effectively.
Captivating Visuals: High-quality graphics bring the intense action scenes to life.
What are the best online games?
Tags