Yarn Untangled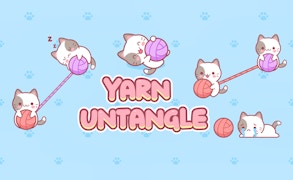 Yarn Untangled
Description
In Yarn Untangled, players assist a cute little kitty in unraveling tangled balls of yarn. In this engaging game, the cat is all about her love for yarn, but these balls are entwined and she needs your help to set them free. Watch as the colorful threads come undone in this amusing and relaxing hyper-casual game that tests your problem-solving skills.
How to Play
The gameplay of Yarn Untangled is simple yet captivating. Players need to use their mouse or touch screen to untangle the yarn balls. The faster you do it, the happier your kitty will be! As you progress through the levels, the yarn formations become more complex, challenging your strategic thinking and coordination skills.
Tips and Tricks
In Yarn Untangled, time and patience are your best friends. Don't rush to untangle huge knots; instead concentrate on smaller ones first. These will often lead to a solution for bigger tangles. Watch out for patterns in the knots that you can exploit!
Features
Cute graphics: Enjoy adorable cat animations and colorful yarn balls.
Puzzle-like Levels: All levels are uniquely designed to challenge your problem-solving skills.
User-Friendly Controls: Simple point-and-click controls make it perfect for children and new gamers.
Addictive Gameplay: The thrill of untangling complex knots keeps players hooked.
What are the best online games?