Xtreme City Drift 3D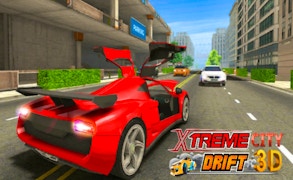 Xtreme City Drift 3D
Prepare yourself to race down the asphalt and through the city streets as if it's your own urban racetrack in the high-octane, action-packed Xtreme City Drift 3D. This 3D drifting and racing game brings a remarkable sense of realism that few car games can match. Step on the gas pedal, shift gears like a pro, and feel your adrenaline pumping for a thrilling digital adventure.
This title sets itself apart from other driving games as it carries you into an immersive cityscape where exhilarating speed is king. The presence of timed laps and checkpoints adds another layer of intensity as you find yourself battling not only competing racers but also against the unrelenting clock.
In Xtreme City Drift 3D, precision is everything. Trust me, nothing feels more satisfying or electrifying than pulling off flawless drifts around spiralling corners that leave tyre tracks embedded in your opponents' minds. Your skill in coordinating throttle, brake, and steering controls will determine how far you'll go in this game.
Beyond sheer speed and tactical driving, Xtreme City Drift 3D also propels you into a rich progression system. Winning races earns you money, providing opportunities to unlock new tracks and faster vehicles. The enhanced cars not only look sleek but also boost your chances of reaching those critical checkpoints before time runs out — adding an extra level of strategic depth to these fantastic drifting games.
All over Xtreme City Drift 3D weaves an exhilarating web of speed, skill, strategy, upgrades and rewards that make it a must-play game for avid players. So get ready for some heart-pounding action as you become engulfed in one of the most thrilling car games out there today!
What are the best online games?