Xmasjong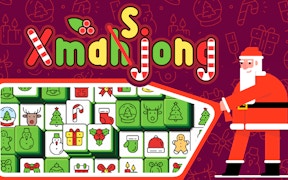 Xmasjong
If you're in the mood for some festive fun combined with a classic oriental game, then Xmasjong, one of the most captivating mahjong games on the market, is just for you.
Xmasjong is a refreshing take on traditional mahjong games, merging vibrant Christmas elements with the time-honored mind workout that mahjong is renowned for. The game puts a unique spin on the rules while maintaining the engaging essence of mahjong that players love. Your mission is simple - find identical tiles and remove them from the playing field.
The beauty of XmasJong lies in its fusion of Christmas charm and strategy. Each tile has a distinct Christmas design and as you remove them layer by layer, you find an array of yuletide items that are automatically placed on or under your virtual Christmas tree. This adds a warm holiday sparkle to each round, making it not just one of many mahjong games, but one of the most delightful Christmas games.
While playing, you'll love the thrill each match brings as it uncovers a new item for your tree - It's like opening a surprise gift with every successful move! It's an engrossing gaming experience perfect for cozy winter evenings.
So whether you're new to mahjong or an experienced player looking for a festive twist, XmasJong delivers an unforgettable gaming experience. Its seamless blend of strategy and holiday cheer makes it stand out among other mahjong games and Christmas games. Get ready gamers because XmasJong brings together fun, strategy and beloved holiday traditions in one addictive game!
What are the best online games?