Xmas Pop It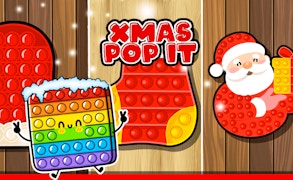 Xmas Pop It
Description
In Xmas Pop It, players immerse themselves in the joyous holiday spirit while popping bubbles on festive fidget toys! Engage in this simple yet intriguing game that brings the essence of Christmas to your screens. Whether you're popping star-shaped bubbles or snowman ones, every pop fills up the screen with a burst of merry vibes. Make sure to pop them all for a truly fulfilling gaming experience.
How to Play
The game controls are extremely user-friendly - simply point and click on the bubbles you want to pop. The goal is straightforward: pop all the bubbles found on each Christmas-themed toy. As you clear each level, the game gradually becomes intense with more bubbles to pop and different shapes to explore.
Tips and Tricks
Be swift, but don't rush. You don't want to miss out on any bubble! Remember that some bubbles might be hidden behind other graphics on the toy, so always keep an eye open. The game doesn't have a time limit which allows you time to strategically plan your moves and ensure every single bubble is popped.
Features
Holiday-theme: The Christmas artwork upscales your festive moods.
Simplified gameplay: A perfect stress-buster with easy point-and-click controls.
Diverse levels: Each level offers a unique Christmas toy with uniquely shaped bubbles.
No timer: Enjoy at your own pace without any rush.
What are the best online games?