Xmas Draw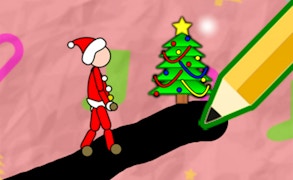 Xmas Draw
Prepare to deck the halls with bouts of brainy fun as we unwrap a review of the festive puzzle game, Xmas Draw, the merriest fusion of drawing games, Christmas games, and brain games out there. This delightful game will not only light up your holiday season but also kindle a refreshing fire in your cognition.
At its heart, Xmas Draw is a puzzle game that challenges you to draw a path, collecting all three gifts or reaching the Christmas tree. Each level presents an engaging landscape adorned with jingle bells and holiday cheer - but don't be fooled! The simplicity of the premise belies its challenging nature. The difficulty increases with every level, making this one of the more deceptively challenging Christmas games on the market.
As part of the drawing games niche, Xmas Draw taps into that childlike joy of creating something on a blank canvas. But this isn't just sketching; it's strategic planning and execution - testing your problem-solving skills under the mistletoe-topped thresholds of each new puzzle.
But what sets Xmas Draw apart from other drawing games is its festive touch and brain-teasing puzzles. Tackling these brain games will not only fire up your neurons but will also fill you with yuletide glee. From figuring out how best to draw your path to mastering maneuvering around obstacles, each level is like unwrapping a present - you never know what you're going to get next!
In conclusion, if you're a fan of Christmas games or just someone looking for enjoyable brain games to sharpen your mental agility during these cozy winter nights, then pull up a chair by the fireplace and delight in the holiday magic that Xmas Draw has in store for you. This game truly captures the spirit of joyous challenge that comes with every rousing round of puzzles!
What are the best online games?