Wrecked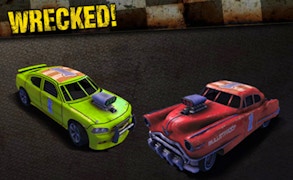 Wrecked
Step into the fiercely competitive sphere of car games with 'Wrecked', an adrenaline-fueled, high-octane racing game that leaves you begging for more. This HTML5 marvel isn't just a game—it's an intoxicating mix of speed, strategy, and survival that sets new standards in the world of online gaming.
In Wrecked, the arena is a merciless circular ring where you go head-to-head against other fearless drivers. But this isn't just about speed. It's a thrilling test of your driving skills and your ability to outsmart and outlast your competitors. Wrecked takes driving games to another level, injecting them with a touch of ruthlessness that will keep you on the edge.
The game weaves in elements from drifting games, requiring you to perfect your drifting skills as you navigate through the perilous ring. Escape other cars by executing flawless drifts that leave your rivals eating dust. The thrill of drifting combined with the furious pace of racing makes Wrecked a standout in the crowded field of car games.
But there's more! The game also throws interesting power-ups into the mix. Watch out for ice cubes and dynamites on stage—pick them up and use them tactically to eliminate your enemies. The addition of these power-ups adds an exciting twist to conventional racing and offers an immersive gaming experience.
In conclusion, Wrecked is a must-try for all lovers of car games or driving simulators—it is challenging, gripping, and unabashedly fierce. Whether it's ramping up your speed or mastering every drift, each moment spent playing Wrecked is intense, hair-raising, and absolutely worth it!
What are the best online games?