Worms.io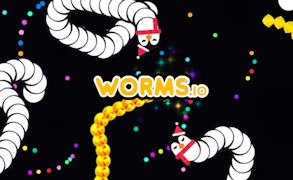 Worms.io
Welcome to the thrilling world of Worms.io, a game that seamlessly amalgamates the charm of worm games and snake games into an addictive online multiplayer experience. This game is not for the faint-hearted, as it pushes you headfirst into a realm teeming with creepy crawlies, vibrant spears, and unrelenting bosses.
The premise of Worms.io is as compelling as it is straightforward - eat, grow, and dominate. As you navigate through this hyper-coloured universe, your primary mission is to collect as many colourful spears as possible. Each collected spear not only increases your length but also feeds into your overall power. The bigger you become, the more formidable you are. More intimidating than a towering Goliath in this world of snake games.
The game's immersive gameplay strategy involves overpowering smaller worms and bosses alike with sheer size. But remember: out here in the world of worm games, might isn't everything. Use your wit and agility to outsmart opponents because in Worms.io, every victory brings you closer to unlocking a plethora of skins.
Nothing screams "victorious" louder than flaunting distinctive skins in the battlefield. Unlock them all and be the biggest, baddest worm in these treacherous terrains!
Whether you're a seasoned gamer who has journeyed through countless worm games or a debutant dipping toes for the first time in snake games, Worms.io will keep you hooked with its engaging gameplay and vivid graphics.
In conclusion, Worms.io brings an exhilarating twist to classic worm and snake games with its unique gameplay mechanics, vibrant visuals, and relentless challenge. Stay alert; stay hungry; stay on top!
What are the best online games?
TAGS