Worm Hunt - Snake game iO zone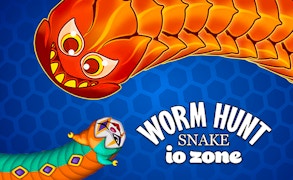 Worm Hunt - Snake game iO zone
Welcome to the world of thrilling Worm Hunt - Snake game iO zone, an entrancing blend of snake games and worm games that is sure to captivate you. This contemporary take on the classic colored snake game now features a dynamic Battle Royale arête where you embrace the avatar of a ravenous worm.
The game offers two alluring modes, each with its distinct exhilaration. You get to choose between a time-limited mode with a progressively shrinking play area for those who enjoy time-bound challenges or an unlimited time mode in an expansive game arena for those seeking endless fun.
The objective? Consume as much food as you can and evolve your worm, becoming the largest reptile in the gaming arena. The challenge? A plethora of other worms are on the same hunt, ready to rival you in this cataclysmic battle royale. How to beat this worm game then? Outsmart them by consistently upgrading your worm.
In this newest free 2022 updated version of Worm Hunt - Snake game iO zone, not only do you engage in ceaseless action, but also sharpen your strategic abilities. The stakes are high, the battles fierce, and only the biggest and the strongest worm is crowned victorious in this gripping amalgamation of snake games and worm games.
In conclusion, Worm Hunt - Snake game iO zone is not just any regular entry into the genre of .io games but a remarkable resurgence of old classic games revamped with modern twists that will undoubtedly keep you hooked for hours. To all gaming addicts out there, here's your chance to become the biggest serpent in this exhilarating battle royale!
What are the best online games?
TAGS